Product Description
EasySMX Gaming Controller works with Nintendo Switch/ Switch Pro and Windows PC. Connects via Bluetooth to Switch, connects via cable to PC.🕹
Xbox 360/ Xbox One/ Mac/ IOS is not supported.
EasySMX Nintendo controller supports Gyro axis function.
Super sensitive button sensing provides an accurate gaming experience by rotating the game controller.
Dual analog sticks and expansion triggers provide precise movement control. also provides an accurate Nintendo motion sensor,
perfectly for The Legend of Zelda, Mario Kart 8 Deluxe, smash bros, Super Mario, Splatoon 2, etc.
5 asymmetric motors and 3-level adjustable vibration function to make you feel a strong feeling of vibration like in a real gaming experience.
TURBO Button + Cross Button work simultaneously to adjust the vibration intensity of the joystick.
These buttons (ZL Button + ZR Button + R3 Button + Cross Button) work simultaneously to adjust the light intensity of the joystick;
The cool led light is fashionable and awesome; CAUTION: Press the L + R key for 5 seconds to turn on the light.
The Switch controller built in 600mAh good quality lithium polymer battery, support 8-10 hours working time.
Share Screenshot of Victory by Combining "-"and "+"and Challenge more, Share Enjoyment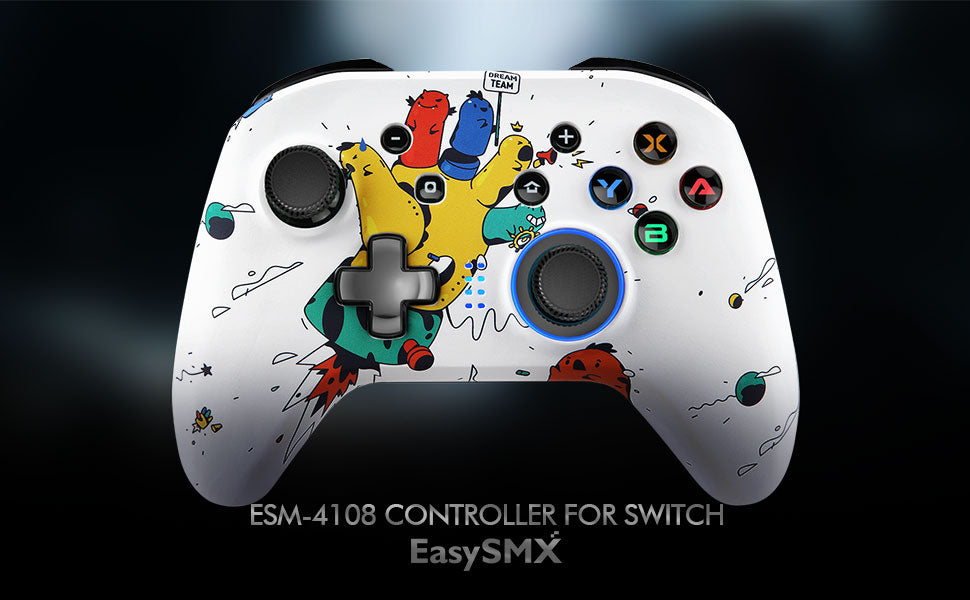 How to connect with Nintendo Switch?

1. Pair for the first time: Hold the HOME button and the 4 indicator lights will flash rapidly for 5 seconds on the [Change Handle / Order] page.
2. Second connection: Press the HOME button on any page and the 4 indicator lights will flash slowly.

How to connect 2 controllers?

1. Start the switch - and then select "Controller" in the home menu-Select "Hold / Change order"
2. Long press the game controller's Y button + HOME button, Or press and hold the H button on this unit for 5 seconds (4 LEDs start blinking).
When pairing is successful, the LED for the corresponding controller number will light.
For the second and subsequent connections, you can press the H button once on any screen.

When connecting for the first time, if it's not connected pls try more times as sometimes it's difficult to connect at first.
This is not a controller issue. It was decided by the switch system.
Since the stability of registration is a top priority for switches, it is necessary to prosecute several times at first.

How to connect with PC?

Connect the controller's USB cable to the computer's USB port directly.
When LED1 + LED4 are on, the connection is successful, and the controller is in Xinput mode.
To input mode: Press the Select + Start buttons for 3 seconds to the input mode. The LED2 + LED3 indicator lights up.
NOTE: Only support USB connection with PC.
Main Keys function of the game controller

Turbo button settings

1. Press and hold the Turbo button, then press the button where you want to set the Turbo function.
The backlight ring turns red to indicate that the adjustment was successful.
After setting, press and hold the TURBO function button set in the game to activate the fast typing function.

2. Press and hold the Turbo button, then press the button with Turbo function.
The backlight ring turns blue, which means you have canceled the Turbo function.

HOME Button: Turn on the controller or execute commands from the Nintendo Switch and Switch Pro console
D-Pad: up, down, left and right. Can be easily operated in any directions
Keys: A, B, X, Y, perfect, responsive and fast key layout for finger operation
Left and Right Joystick: The new 3D stick design can be precisely operated in 360 degrees
Functional keys: L, R, ZL, ZR. Newest trigger and shoulder design, fast response.
Press ZL Button + ZR Button + R3 Button + Cross Button to adjusting the brightness of the led backlight
TURBO button + Cross button to adjust the vibration intensity of the controller, i.e. 5 levels of vibration intensity settings

1. In the controller in stop status, connect the controller and the charging device with the charging cable.
The LED4 indicator will flash to indicate that it is charging and when the indicator becomes long-light-on, it indicates that charging is finished.
2. If there is something wrong with the switch, press the reset button and operate it again, then it can be successful.
3. This switch controller not support the Amiibo function.
4. Compatibility: Nintendo Switch Pro and Nintendo Switch Lite , Windows PC (Charging cable connection)
How to trigger turbo function on Nintendo Switch:
Press and hold the right joystock and then press the PrintScreen button