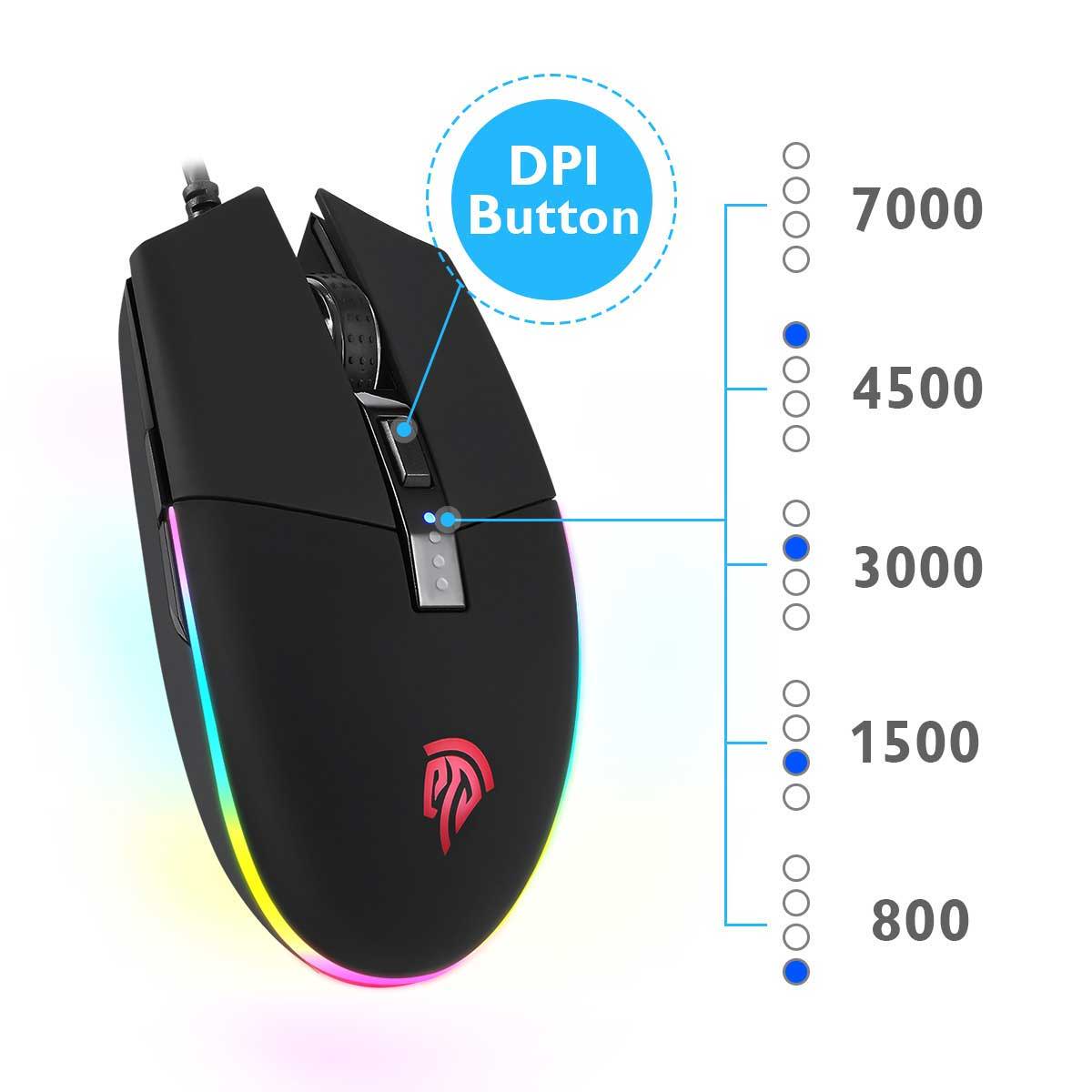 The mouse features an impressive DPI setting up to 7000 DPI with 5 DPIsettings 800, 1500, 3000, 4500, and 7000. The DPI shift button behind the scroll wheellets you alter DPI sensitivity on the fly, handy if you want to use differentsettings between the desktop and a game.

Designed with fans of LAN parties in mind, 3 profiles can be stored up to
on the mouseand make an unlimited number of profiles on your PC if you log
in your account in the EasySMX software.
FREQUENTLY ASKED QUESTIONS
Can the DPI be customized ?

Yes ,this gaming Mouse offers 5 levels of DPI available from 800 to 7000. You can tinker the DPI settings in the driver.

Can I switch the DPI sensitivity on the fly?

Yes, there is a small button behind the scroll wheel which you can press to change among the 5 different settings.
Can I customize the light color?

Yes. There are 16.8 million color options for V50 gaming mouse, which can be customized in the updated gaming driver. Go to Support above and find the download button.
How to choose a preset macro for PUBG?
Please go to support above and watch the tutorial video
My V50 mouse bought a long time ago. Can I still use the latest software?

Yes. As long as your mouse is V50 or T47, you can switch to our newest gaming software. But do remember to update the firmware before you embark on customization in the software. Please see the tutorial video on the Support above.
Except PUBG, is there any other preset macros for other games?

No at the moment. But we will be adding new preset macros of different big games in the future. Keep tuned!
• Backlight Color: RGB
• Connection: USB
• Sensor Type: Infrared
• DPI: 800, 1500, 3000, 4500, 7000
• IPS: 80IPS
• Acceleration: 20g
• Buttons: 6
• Key Life: 20 Million Clicks
• Weight: 18g
• FPS: 5300
• Polling Rate: 500HZ
• Product Dimension: 118.82mm (L) * 64.61mm (W) * 38.83mm (H)
• Cable Length: 1.8m, 1.7m Visible
• Operating System: Windows 2000/XP/ME/Vista/Win7 /Win8/ Win8.1/Win10, Mac OS

SUBSCRIBE FOR EXCLUSIVE SALES
Be the first to know about our promotions and get special discount on your next order.