EasySMX ESM-9013 Wireless Gaming Controller Review
Credit To Original Article From MMORPG.com
EasySMX has been on the market for about five years but you may not have heard of them. Well, now you have, if you are looking for a quality gaming controller for your PC that's also affordable, you're on notice. This is our review of the EasySMX ESM-9013 Wireless Gaming Controller.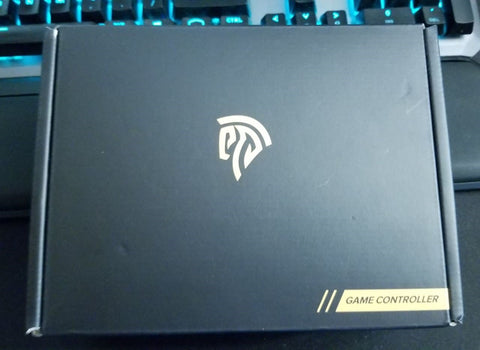 If you have ever used a controller, or gamepad, on your computer and wanted one that was sturdy and wireless, but also available on a budget, this may be the controller for you. The EastSMX Wireless Gaming Controller is an affordable option to satisfy even the most hardcore gamer's needs. It's designed to fit comfortably in your hands while also being able to be used on multiple devices. Let's dig a little deeper into the ESM-9013.
I can't speak for anyone but myself, but I know that I love to play games without being constrained by a cord. The Xbox 360 wired controller I was using for my PC gaming was worked but the cord kept getting in the way (and the sticks were starting to drift). The EasySMX ESM-9013 turned out to be the solution to both problems, cutting the cord and providing accurate tracking.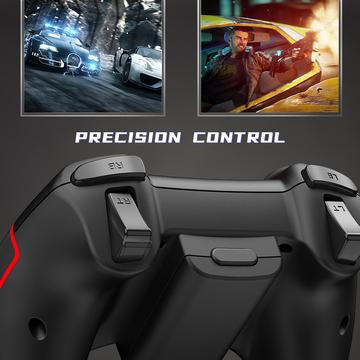 Boasting a 2.4G Wireless Transmission technology, this controller gives you a stable connection to your PC with no delay. You are able to play with this gamepad from up to 10 meters away, that's 32.8 feet, from the screen you are playing on. If you feel like your eyes are getting strained from playing too close to the screen, then this is a good option to move back and rest them a little bit. Each controller comes with a USB Wireless Adapter, which makes this easy to install and use. All you have to do is make sure the drivers recognize the controller and you are good to go.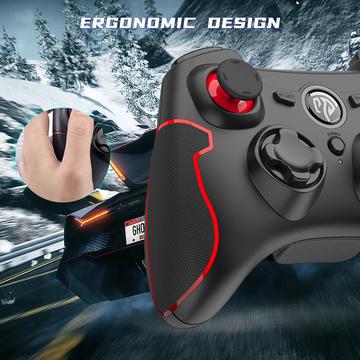 The first thing you'll notice about this controller is that it looks almost identical to an Xbox 360 gamepad. This was a positive for me because the ergonomics always felt best for my hands and I like the offset sticks. EasySMX has done a good job of emulating such a popular choice in the PC controller market.
With that being said, the inside of the controller is also fully featured. It sports an asymmetric vibrating motor to bring you varying levels of vibration. This could include differences for headshots, explosions, and even collisions (like driving your vehicle into a rock or tree). You really get the feel of being more immersed in the game.
Since it uses replaceable batteries for power supply, there is no need to worry about the troubles caused by limited battery life. When the controller stops working because there is no battery, you only need to easily take out the AA batteries you prepared in advance from your drawer, and put aside the old batteries, you can go back to the game again. The time consumed during this period is only a few seconds, instead of plugging in the charging head and charging your handle for a few hours. Although this sounds cliche, it really saves you a lot of precious time and you can spend more energy on your game.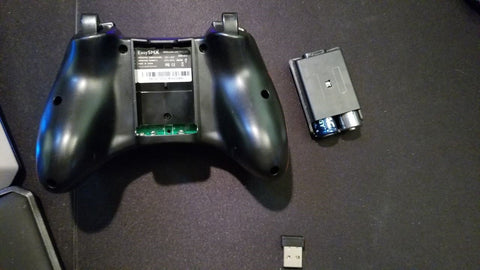 Like the Xbox controllers, the ESM-9013 is set-up with the same buttons, joysticks, and a directional pad. You shouldn't have to remap any of the controls for your games, as it is plug-and-play. The one thing you will have to make sure of is your in-game settings. For some games, you will have to adjust your sensitivities as some games were far too sensitive and made me spin at what felt like 1000 miles a second. Likewise, the deadzone is small, so it took about an hour of tweaking to get the perfect gameplay settings, and then it was off to the races.
I have successfully tested this controller with Origin, Epic Games Launcher, Steam, and it worked properly with each of them. There is one thing I will tell you though: Make sure you don't have all of these programs running at the same time as you could wind up trigger different programs by accident. For example, when I played Star Wars Battlefront 2 through Origin with Steam running in the background, Steam's Big Picture Mode chat keyboard would pop up when I clicked the joystick to run. Other than that, it was smooth sailing in-game.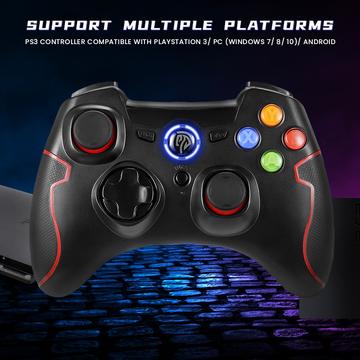 If you want quality, comfort, and affordability, then the EasySMX Wireless Gaming Controller meets all of your criteria. For the low price of $25, you will an easy, widely compatible way to play your games without additional software, and a reliable wireless connection to boot.
---