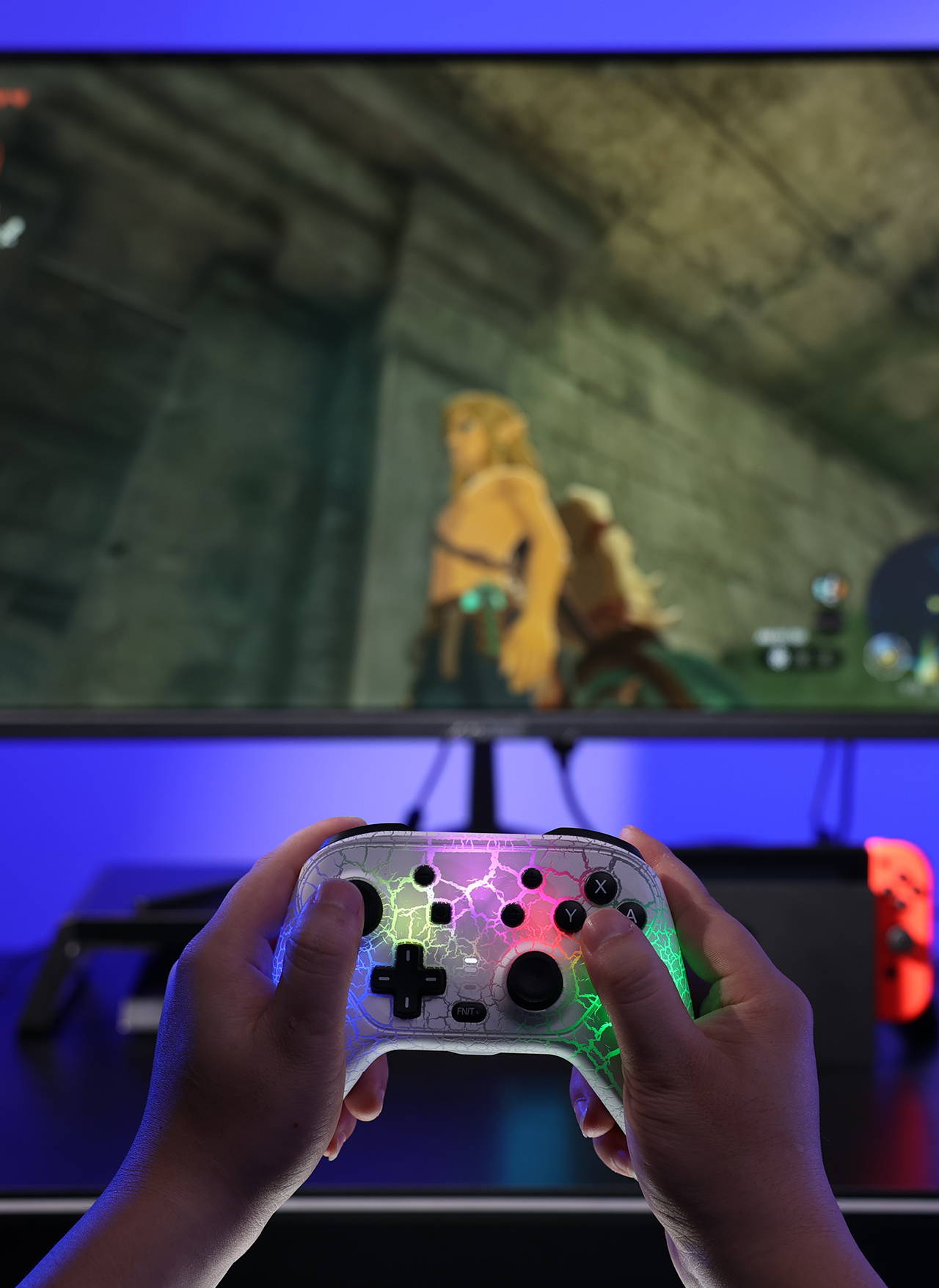 Funny Story But This Is How It Started:
Would you change a company because of one user? EasySMX is a company that uses creativity and services to pamper fans, a company that changes its products due to users. This is closely related to founder Stephen. Stephen founded the company because of one customer, changed the company's button design because of one customer, and changed the appearance of the product because of one customer.
1. The story starts from the summer of 2012 when a friend of Stephen's had a broken handle. The friend approached him and hoped to help him repair his beloved handle. Stephen, through his years of experience as an engineer and supplier resources, helped his friend fix the handle. His friend casually said that it would be great if he could make a cheap and user-friendly handle. He evaluated and found that there were indeed low-cost replacement parts that could be achieved. So Stephen decided to make a handle that people could afford, and he founded the EasySMX.
2. Due to Stephen's background as an engineer, he places great emphasis on product experience and frequently chats with users about product experience. One day, a user left a message to Stephen, saying that he was a loyal user of Easuma. He really liked Easuma's products, but the handle was a bit long and a button was a bit small. If only it could be improved. Stephen is very important for this and has arranged for the R&D team to upgrade and improve the controller. When the seller received the modified handle from Easyma, he was very moved and recommended the Easyma handle to all friends he knew. Now, he has become the American agent of Easyma.
3. Another time, Stephen received a letter from a loyal player who was very fond of Chinese culture and told him his story with dragons, hoping to customize a controller with dragon elements. Stephen was moved by this player's story, and the dragon is a totem and symbol of the Chinese nation. Stephen also wanted to bring Chinese dragon culture to the world, so he embarked on a journey to search for dragons.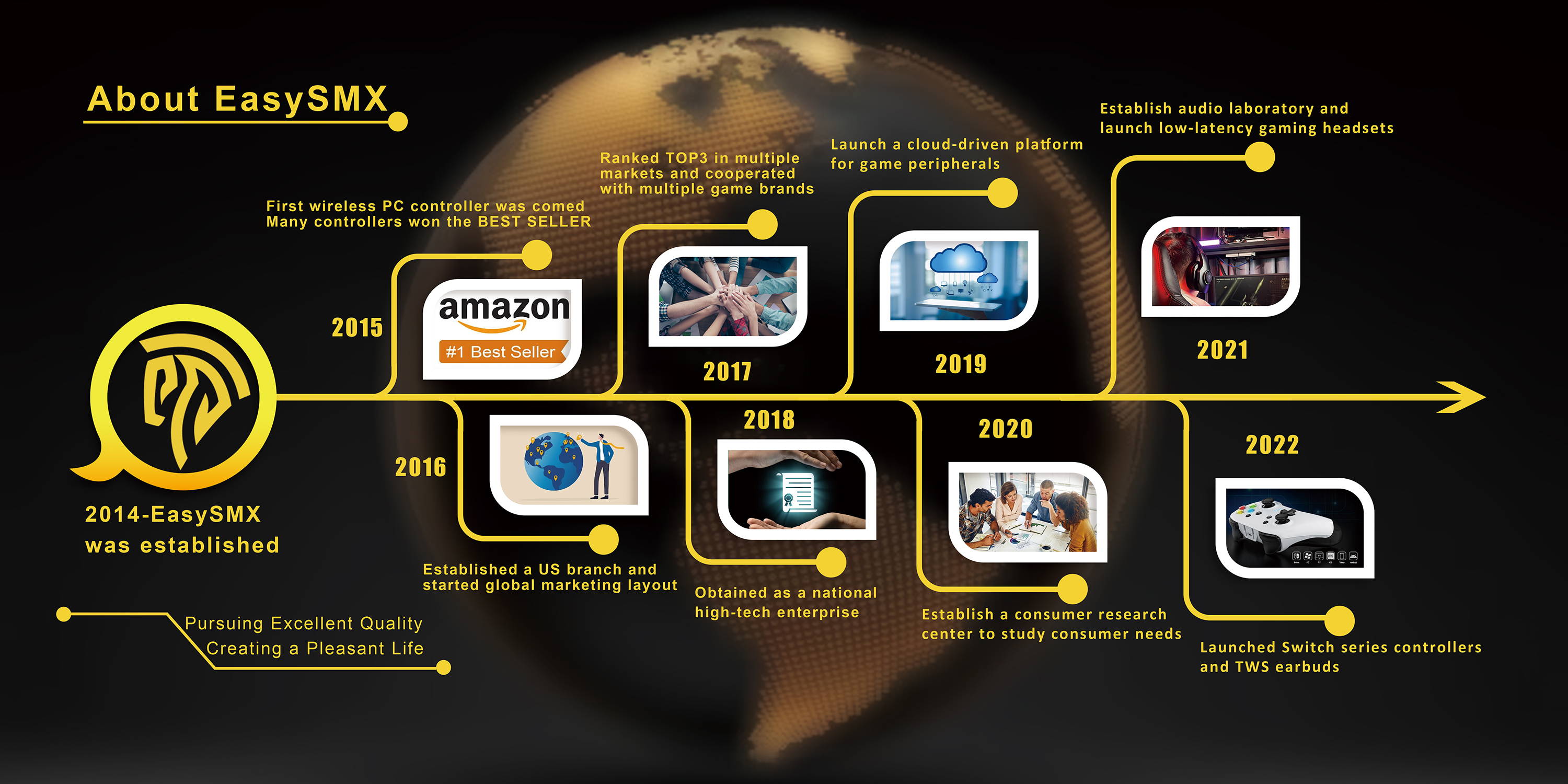 Who are we?
'Easy' represents our product's accessibility and ease of experience; 'S' stands for Saving but stunning; 'M' stands for Multi functional; 'X' represents Limitless & Ultimate.
1. Since its establishment in 2014, EasySMX has been adhering to the corporate mission of "pursuing excellent quality and creating a pleasant life", creating a game peripheral brand EasySMX; the company mainly sells to the world through Amazon, AliExpress and other third-party platforms and self-operated platforms. And relying on a series of information systems independently developed, it has realized the whole process control of product R&D and design, marketing promotion, warehousing and distribution.
2. The game peripheral brand EasySMX has a very high brand influence overseas. On the Amazon platform in Europe, the United States and other sites, it is the top3 seller in the gamepad category. At present, the products are distributed in North America, Europe, China, Japan, South Korea, South America, Russia and other regions.
3. EasySMX adopts the business model of integrating industry and trade. At present, all products have passed the CE and RoHS certification of the European Union, the FCC testing and certification of the United States, and ISO9001 and other system standards, and obtained the national high-tech enterprise certificate in 2018. The company has been committed to the product development of game peripherals, 3C digital and other fields, focusing on independent innovation, and has obtained more than 50 software copyrights and utility model patents.
4. Contact us:
Email: official@easysmx.com
WhatsAPP: (86)15544881162
😄Glad to hear from you!