Say Goodbye to Overheating Issues: EasySMX D10 SteamDeck Cooling Fan With The Most Efficient Airflow System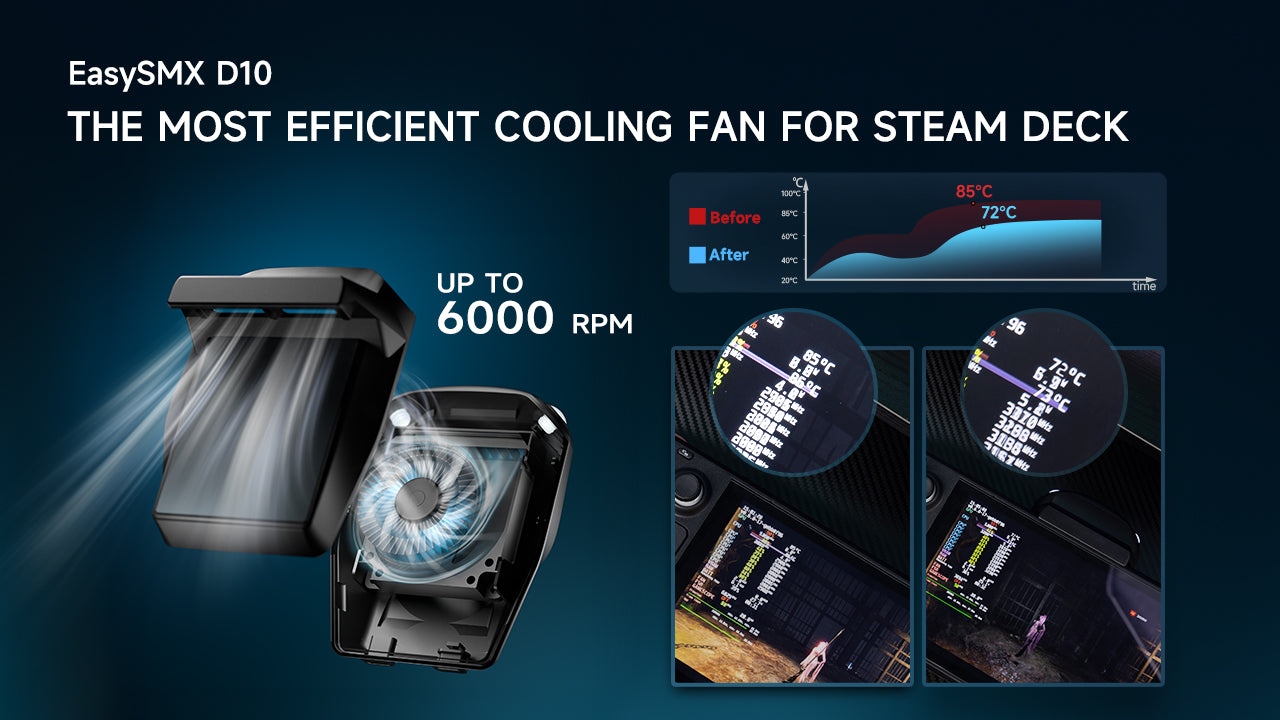 17 July 2023 - EasySMX, a professional brand dedicated to gaming technologies and gear, is thrilled to announce the launch of the EasySMX D10, a unique cooling fan specially designed for the SteamDeck. The new product is aimed at solving the overheating problem while playing at SteamDeck and ensuring the stable performance of SteamDeck.
SteamDeck users often encounter challenges such as overheating issues that lead to shutdowns and FPS drops. The EasySMX D10 has been engineered to directly tackle these challenges, ensuring gamers enjoy a seamless and optimal gaming experience.
"Our aim is always to give gamers a perfect gaming experience," said Stephen, CEO of EasySMX. "With the EasySMX D10, we've not just solved the overheating problem but also greatly ensured stable performance of the SteamDeck while playing."
Exclusive Direct Air Cooling System: Unlike the common contact cooling design, EasySMX D10 deploys direct air cooling system which is considered the only working way to the Steam Deck. this cooling system exhausts hot air inside the machine continuously to achieve rapid cooling and reduce the APU temperature up to 15℃. And D10 can ensure the optimal performance of Steam Deck and ensure long-time gaming without fps drops under its outstanding airflow system. 
The Most Efficient Airflow System: EasySMX D10 also comes with an Efficient and silent power cycle system. Equipped with a hydr bearing turbofan, the maximum speed is as high as 6,000 RPM, making it can cool down the machine quickly. And the internal corridor-like physical noise reduction structure is set to reach maximum airflow with minimal noise, ensuring fast cooling without disturbing the gaming experience
Unique Mechanism & Premium Material: And one of the standout features of the EasySMX D10 is its unique buckle design that allows for a quick and easy attachment to the SteamDeck. The cooling fan deploys anti-slip material with wipeable 'NVA technology ™' that guarantees a 100% non-slip surface & absolutely stable connection, leaving no marks on the Steam Deck. Moreover, it's easy to clean; a simple wipe with a damp paper towel can restore its stickiness.
Other Features: Furthermore, with a USB Type-C power port and compatibility with the SteamDeck Dock, the EasySMX D10 is designed to seamlessly integrate into any gaming setup.
Pricing and Availability
EasySMX D10 is officially available for purchase on official EasySMX Amazon store: https://amzn.to/46KZQ6i and Official store: https://bit.ly/3rAMdqb at $43.99: 
For a limited time, customers can apply the $10 off discount on their Amazon purchases. Or use GETD10 discount code to get 15% off with official store order.
"We are excited to bring our self-developed EasySMX D10 SteamDeck Cooling Fan to market," said a spokesperson for EasySMX. "The EasySMX D10 is more than a cooling fan – it's an indispensable tool for all SteamDeck users that will drastically elevate their gaming experience. We're confident that this product would greatly enhance the SteamDeck gamers' experience "
About EasySMX
EasySMX is a professional brand that has been dedicated to gaming technologies and peripherals for more than 8 years. And gained many BEST SELLER titles with different products on Amazon.
EasySMX runs self-own R&D Centre, Manufacturing Centre, Consumer Research Centre and Audio Labs. EasySMX has won the recognition of customers and influencers from all over the world with its innovative product design, excellent product quality and perfect supporting services.
For more information about EasySMX, visit www.easysmx.com.
PR Contact:
EasySMX Marketing
Email: Info@easysmx.com
---