EasySMX Big and Tall Ergonomic Gaming Chair: Cheap Gaming Chair Without Disappointed.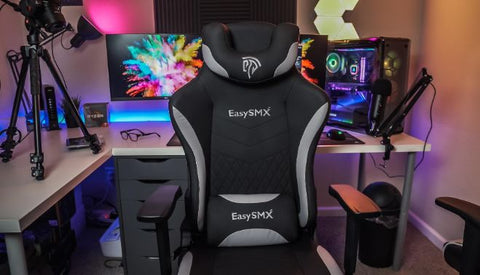 Every gamer knows that gaming can be an expensive hobby. Between consoles, games, online memberships, and more essentials, the temptation to constantly upgrade your setup is very real. Gaming chairs can add to your costs, but it's always nice to get new gear without spending a fortune. Believe it or not, I have got this fancy chair for less than $200 during the Black Friday.
The EasySMX Big and Tall Ergonomic Gaming Chair looks fairly unassuming at first glance. It sports a massive, race car-inspired design that's typical of any gaming chair — a look you may find attractive or obnoxious depending on your tastes. After seeing its low price and large amount of positive reviews, I decided on the fairly understated black-and-white model, and I haven't looked back.
That high level of comfort is provided by high-density shaping foam that's under the artificial leather outer shell. This combination has kept me free of aches and soreness for years now. The chair's large headrest keeps my neck comfortable, while its large bottom cushion does the same for my lower back by providing plenty of lumbar support.
Let's look down to the wheels of the chair. Its 360-degree seat swivel and rolling wheels still feel smooth and responsive, providing very little friction as I whiz around my work area to jump between different devices throughout the day. EasySMX's chair is also easy to recline, with a lever that lets you go from 90 degrees for sitting upright to 135 degrees for kicking back while gaming or watching movies. 
This chair is also competent for work scenarios. It not only provides good support when you are passionate about gaming, but also provides enough comfort when you are typing on the keyboard against the work table. Compared to traditional chair, adjustable armrests are the gospel of your elbows that have nowhere to rest.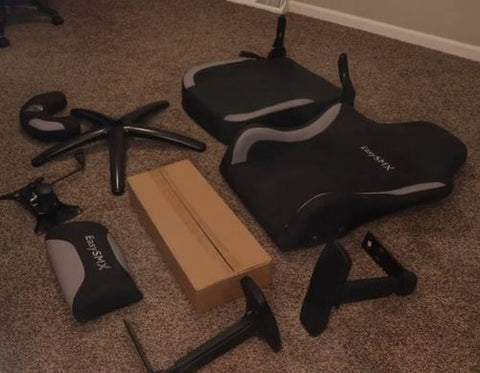 When it comes to the assembly process, putting together EasySMX's chair was a relatively painless process that took less than an hour from what I recall. A clumsy person like me can easily assemble it in a short time under the concise and easy-to-understand installation manual. If you are still worried that you cannot understand the installation manual that comes with the box, then I can only tell you not to be afraid. The official website also comes with an installation video, which will take you through all the installation processes step by step.
In conclusion, when you are building a home gaming office, the EasySMX gaming chair is at least worthy of your attention, because you can get a comfortable and flexible work chair and gaming chair for just over $100. Considering that the price of office chairs and gaming chairs can easily exceed $1,000, the fact that you can buy such a reliable thing at such a cheap price is significant.
---