EasySMX ESM-4108 Switch/PC Controller Review
Credit To Original Article From Gamesapce.com
While most gamers would probably get along just fine with either sticking to their traditional Switch setup or using the Joy-Con Grip that came with their system, some of us want a little something more in the realm of comfort. Sometimes, the Joy-Con analog sticks just feel a little too small or unresponsive, or the feel of the grip just isn't well suited for hours of play. While Nintendo came out with a nice quality of life addition to their arsenal of accessories with their Nintendo Pro Switch Controller, it can definitely be a little pricey. Luckily, EasySMX has released a pretty fantastic budget-friendly alternative to the Nintendo Pro Switch Controller in the form of their ESM 4108 Wireless controller.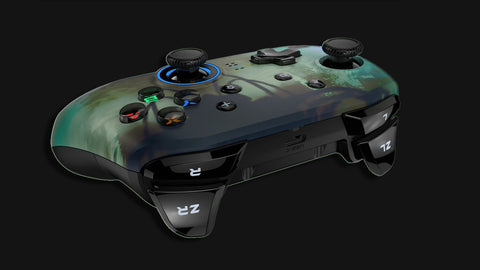 SPECIFICATIONS
Compatible with Nintendo Switch console, PC
Direct Pricing: $29.99 USD
Supports Gyro axis function
Nintendo motion sensor (The Legend of Zelda, Mario Kart 8 Deluxe, etc.)
5 asymmetric motors and 3-level adjustable vibration function
Vibration function setting
Customizable LED backlighting intensity for buttons and right analog stick
7-8 hours working time
2-3 hours charging time
Built-in 600 maH rechargeable battery
Type-C charging port

Personally, my favorite has to be the "green ray" selection that has lots of little wires and circuits running across it. Very matrix-y, and easy on the eyes. Unless you wanted to get a fancy vinyl skin for your Pro Switch controller, you're probably not going to find much in the way of color or customization for it. Most retailers sell the Pro in your typical matte black or black/red combo and that's what you're stuck with. With the ESM 4108, you have much more in the way of freedom to color coordinate your gaming center. Or, you could just go with the traditional matte black. That works, too.
EXCEEDS EXPECTATIONS
For $29, I'm ashamed to say that I wasn't expecting a lot out of this little controller, but I'm kind of glad to have been proven wrong. The first thing we should probably talk about is its setup. Some surprise here, it was incredibly easy to do. As someone who writes instructions for a living, I was mildly surprised at how effective and concise the user manual is. In fact, a bulk of the manual is just there to translate two pages into several, and I mean several, additional languages. While the English isn't 100%, it gets the point across, and I was able to sync my controller and have it running without hassle within minutes.
First impression of the overall feel, is it is incredibly comfortable to use. With the "green ray" color option, there's a nice silicon-like coating over the front half of the controller that resists any residual oils from your hands and fingertips. The button mapping is also great in that it mimics the traditional layout of the Pro controller and the traditional Joy-Con layout, but with a slight tilt to the handles that make it fit much more comfortably in the palms of your hands.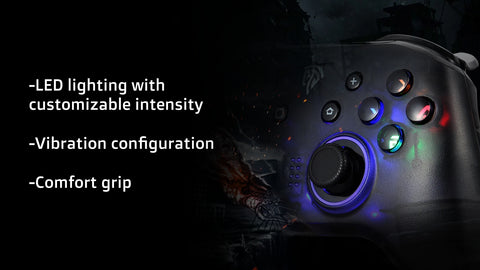 On the face of the controller, we're greeted with all of the typical bells and whistles we'd still hope to expect: "-" and "+" buttons, TURBO/screenshot button, right/left analog sticks, D pad, and ABXY buttons. On the top, you have your L/ZL as well as the R/ZR triggers. The triggers are actually one of my favorite parts about the ESM 4108 controller because of how accessible and reactive they are to touch. For example, my Logitech gamepad controller that I've had for a few years now always makes me dread using the trigger buttons because of how much pressure you have to use just to get the button to react. With the ESM 4108, it just feels natural and far less stressful.
HOURS OF RAINY DAY GAMING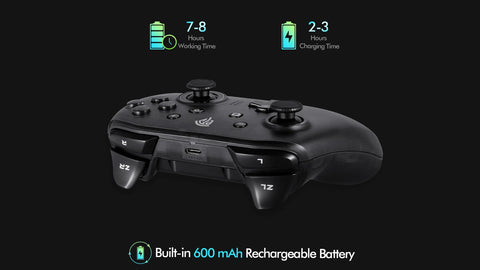 As most people know, one of the best parts about having a Nintendo Switch is the versatility to play it on your TV screen or take it with you on the go. During my review process, I encountered some pretty severe weather that knocked out my power for a full day. Naturally, I picked up my Switch and decided to dive into some indie games to pass the time. Propped up on my bed with blankets, snacks, and a fluffy cat, my ESM 4108 controller easily lasted a full day at probably about 8 hours of use with little breaks here and there. I particularly enjoyed being able to customize the LED light intensity for gaming in the dark and was able to adjust the intensity of the vibrating feature for when I got tired of it at the end of the day.
CONNECT TO PC
I was definitely looking forward to testing out this controller on my PC. As I mentioned previously, my Logitech gamepad hasn't really been fulfilling all my wishes when it comes to comfort and control. While it doesn't seem to work wirelessly for PC, it functions just as well, if not better than my typical controller. My one pet peeve is that for PC play the included Type-C cable could maybe be just a bit longer. If you have a keyboard that has an extra USB slot like mine does, it might not be as big of a problem, but connecting the controller to the back or top of your PC tower doesn't leave you much slack to recline back in your chair and get comfortable. The other tick I noticed when testing combat in more involved games like Dauntless or FFXIV, is that the buttons can be a little loud when your fingers start flying. There was absolutely no way I could use voice activity in Discord while I was playing because of the click-clacking that came through my mic.
FINAL THOUGHTS
The ESM 4108 controller from EasySMX is a fantastic budget alternative to the pricier Switch Pro Controller on the market. Not only is it comfortable to use, but it comes in several colors with all of the same bells and whistles you can expect from its competitor. Long-lasting comfort and battery life make this controller a big win for me, and I can confidently say that even though it's meant for the Switch, I can definitely see this replacing my current PC controller. If you want to get a few extra controllers but don't want to shell out $60 for each one-don't. Take a look at the EasySMX site to browse through their catalog of available ESM 4108 controllers.
---
3 comments
---
---