EasySMX Launches X10 Mechanic Master Gaming Controller: Redefined Precision, Durability, and Customization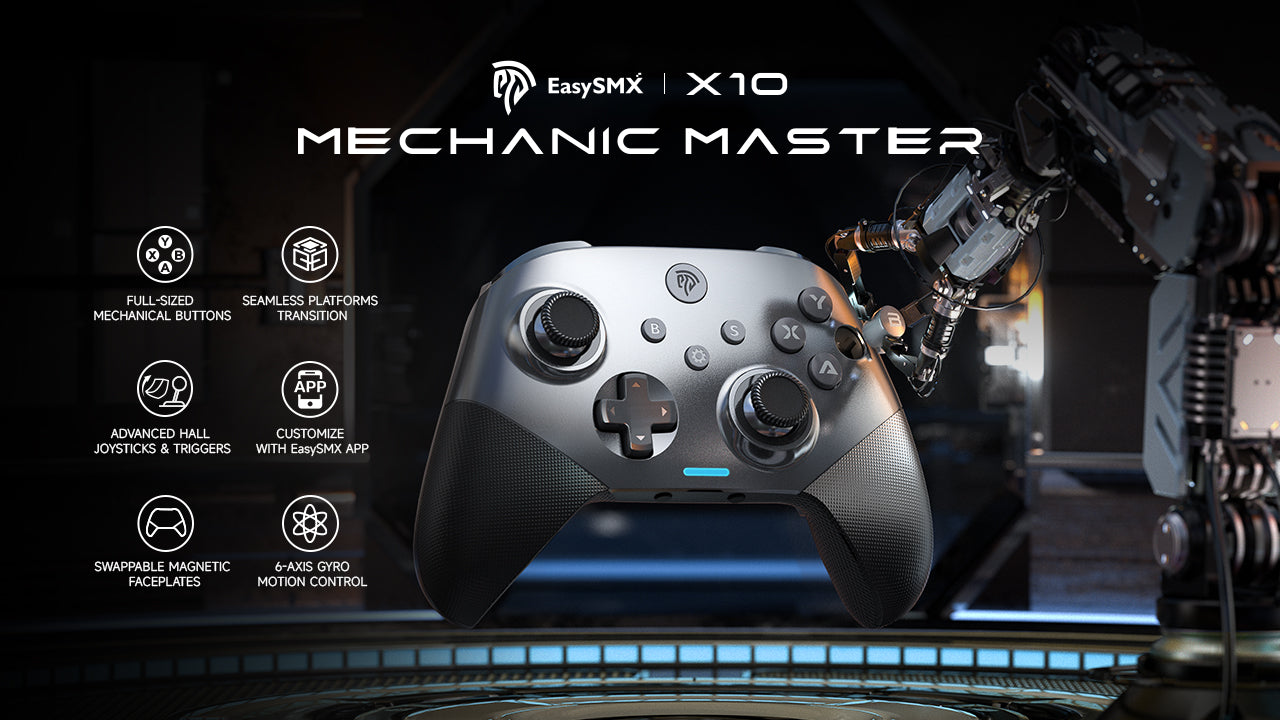 Boulder, CO – November 17, 2023 – EasySMX, a leading manufacturer of gaming peripherals, today proudly introduces the X10 Mechanic Master, a revolutionary gaming controller designed to redefine precision, durability, and customization for gamers across various platforms.
"We are excited to bring the X10 Mechanic Master to the gaming community," said Stephen, CEO of EasySMX. "Our goal was to create a versatile, high-quality gaming controller that offers advanced precision, durability, and customization for gamers. We believe the X10 Mechanic Master provides the perfect balance for gamers seeking an enhanced gaming experience."
Mechanism Made Master

: Leveraging cutting-edge engineering and infused with elite gaming mouse mechanism, the X10 comes with full-mechanical tactile buttons: Action Buttons, D-pad, and Back Paddles. With quicker press responses, X10 delivers next-level consistency in gaming. It brings tactile gaming experience as well as greater immersion like no other.
More Precision But No Drift

: Equipped with all Hall Effect Sensor Systems (Dual Joysticks & Dual Triggers), X10 has superior durability & guaranteed reliability. X10 ensures unparalleled precision in every action! Moreover, its advanced "non-contact magnetic sensors" triple the controller's life and eliminate stick drift issues.
Explore More Fun of Customization

: The faceplate of the X10 features 3 swappable magnetic components, gamers can make their own X10 controller and show off the unique style with imaginative customization. One controller, but countless possibilities!
Seamless Platforms Transition

: With a convenient 'slide switch', X10 provides effortless platform transition in just one second. Gamers can enjoy seamless transition among PC, iOS, Android, Nintendo Switch, or even Steam Deck with a simple press!
Power Up The Endurance

: To make gamers enjoy uninterrupted gaming, the X10 sets a new standard in the gaming world with its powerful 1000mAh lithium battery. It has gone the extra mile to ensure longer playtimes and fewer interruptions. More endurance, more thrills, and more victories!
Other Features

: Designed with pro gamers in mind, X10 features 2 programmable back paddles and supports 6-axis motion control; 5 adjustable vibration levels and adapt the controller to your unique gaming style using X10's proprietary software. Embark on a journey where control meets customization, only with the EasySMX X10 Mechanic Master!
Pricing and Availability
The X10 Mechanic Master's MSRP is $49.99, Gamers can take advantage of special launch pricing: of $44.99 from 17 Nov, 2023 to 27 Nov, 2023.
Pre-order Link: https://bit.ly/3ueG1FD
Available at easysmx.com on 17 November 2023
It will later be available on Amazon and other platforms.
About EasySMX
EasySMX is a professional brand dedicated to gaming technologies and peripherals for over 9 years. With a commitment to innovation and quality, EasySMX has earned numerous BEST SELLER titles on Amazon, serving a global community of gaming enthusiasts.
Running its self-owned R&D Centre, Manufacturing Centre, Consumer Research Centre, and Audio Labs, EasySMX continues to push the boundaries of gaming technology.
For more information about EasySMX, visit www.easysmx.com.
Media Contact
EasySMX Marketing Team
Email: info@easysmx.com
---