EasySMX Q20 VR Head Strap Unboxing, Assembly and Review - The Best Quest 2 Accessories in 2023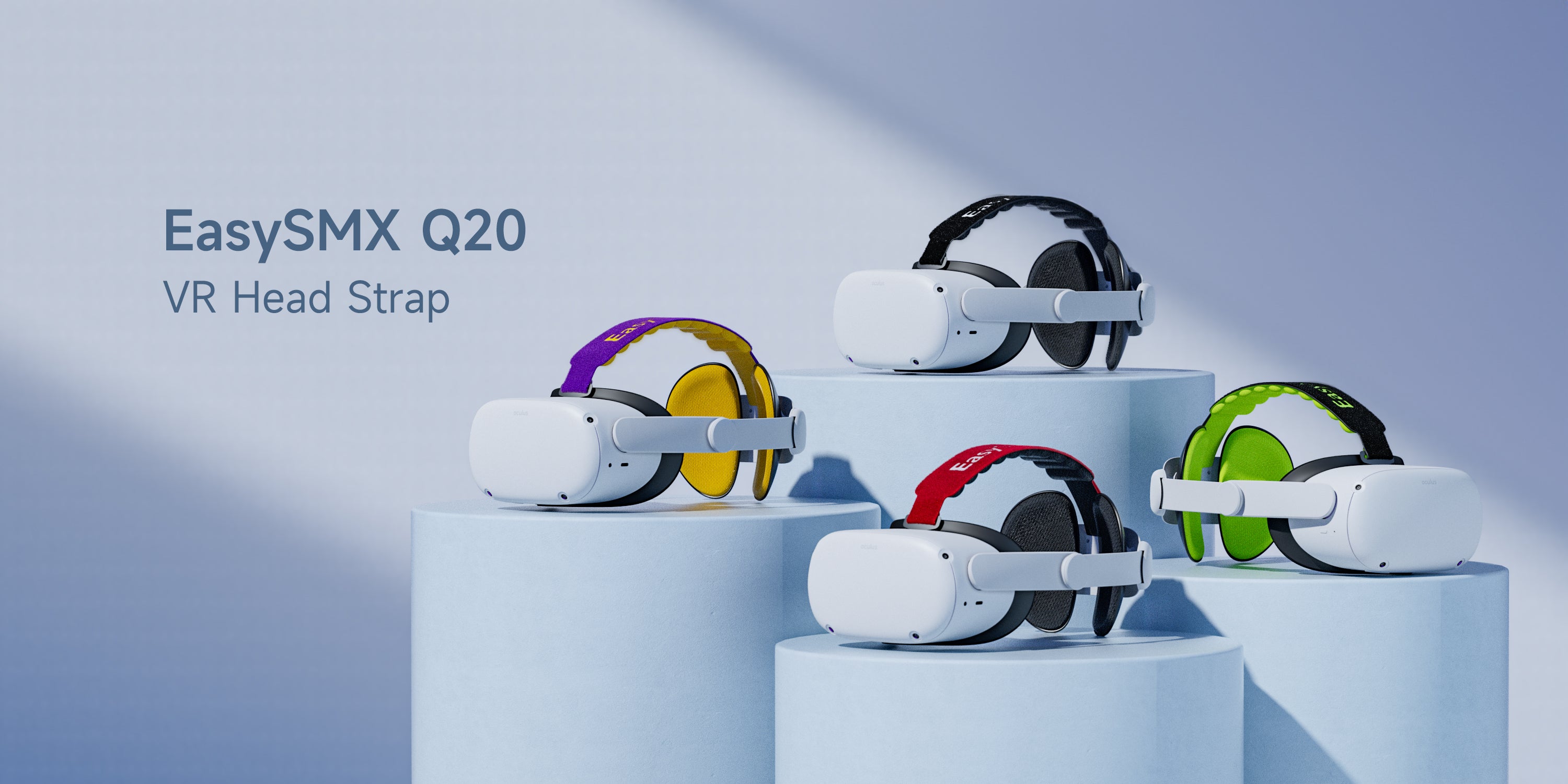 If you are a Quest 2 user and used to spending hours on your VR journey then you must have faced some comfort troubles with your head. For example, the unbalanced weight on the back head & front head of the whole headset and unbreathable heat make you could not stand long-time playing.
And those factors that make you uncomfortable may gradually reduce your VR gaming frequency and left the expensive VR headset away from your life.

So, if you want to make full use of your Quest 2 and get 100% comfort guarantee, then you have to check this brand new upgraded head strap solution from EasySMX - Q20 VR head strap special for Quest 2.
The best head strap solution is to ensure it can firmly & comfortably fitted both on your back head & front head, and the level of adjustability that suit for all sizes of different people.
EasySMX Q20 head strap exactly meets those necessary requirements that make Quest 2 gamer could enjoy hours playing. It comes with these features for your reference:
Exclusive patented adaptive head pad

Upgraded wearing experience: widened top pad & breathable material

Feather-light like a cloud: 172g

Exquisite mechanism for a firm connection

Environmentally friendly and durable
It is available now on Amazon, and you can grab the limit $5 off discount now!
Green: https://amzn.to/3qK45P2
Black: https://amzn.to/3PcHu7R 
And we have unboxed this head strap, let's take a closer look of the unboxing, assembly the overall review:
The back adaptive head that has a freely adjustable range of 15° is really an impressive point that makes it can easily fit in different shapes of back head. And EasySMX Q20 features a smooth knob on the back that can adjust its size is perfect for both children and adults.
For upgrading the comfort of the top of the head, EasySMX Q20 uses widen strap with a wave-like shape and breathable material. This design can increase the area of pressure surface that solve the situation of unbalanced weight on the back head & front head. 
What's more, the design of wave-like shape and breathable materials avoid sweating on the head even after long-time gaming. All sponge accessories installed on the headband are removable and washable. They are more environmental-friendly and durable than typical PU pads and not easily broken.
To make sure a stable connection, EasySMX Q20 uses metal hook to firmly attach the headset. Just a snap to connect easily! No worries even if you move a lot while VR gaming. Besides, you can smoothly lift the headset if you would like to check outside anytime.
It is available now on Amazon, and you can grab the limit $5 off discount now!
Amazon Green:

 

https://amzn.to/3qK45P2
Amazon

 

Black:

 

https://amzn.to/3PcHu7R 
This Site: EasySMX Q20 VR Head Strap
---